This week we are absolutely delighted to feature Victoria Turner aka The Harrogate Girl as our guest writer. Victoria is a lifestyle blogger and expert on all the happenings in Harrogate as well providing readers with health and beauty tricks and travel tips.
For Discover Britain's Towns, Victoria gives us some insider's information on the best of Harrogate, where to go and what to do as well as her top recommendations for what to eat and drink. Enjoy!
With thanks to Visit Harrogate for providing us with images
"Harrogate. A spa town with beautiful architecture, green open spaces, independent shops and host to a variety of wonderful events… sounds lovely already! Harrogate has so much to offer no matter what your age and stage. I grew up here, so hopefully I can give you some great intel on where to eat, where to stay and what to do!
Now home to over 75,000 people, Harrogate town grew in popularity after the sulphur rich spring water was discovered in the 16th Century. The town became known as 'The English Spa' and people from far and wide came to take the water. Even Royalty would visit. This is the foundation that Harrogate was built upon. The town centre hasn't changed much with its glorious Georgian and Victoria architecture still standing proud today. We are also famous for the Stray. You can't miss it. It's the big green grassy thing that surrounds our town. Over 200 acres of common land where residents can breathe in the fresh air and even graze their flock!
We have some fantastic independents lining the streets of Harrogate – this is what makes Harrogate a unique place to visit. If it's shopping you're after head down to the Montpellier Quarter where you will find a lovely selection of bars, cafes, antiques and galleries. James Street or Beulah Street have an array of little boutiques but if you fancy something a little different pop to Crimple Hall; an antiques hall, garden centre, café and bar located on the outskirts of the town centre… I could while away the hours in this gorgeous place.
Montpellier Quarter
Montpellier Hill
Harrogate also boasts some amazing restaurants and bars. I love the blind menu experience at Horto, situated in the grounds of Rudding Park. The Head Chef Murray Wilson is a Master Chef Finalist. I was lucky enough to review his dishes which are extraordinary with taste explosions that are out of this world! However, if you're wanting something a little more informal I'd go for La Feria on Cold Bath Road or Deanos on Oxford Street. Both have delicious treats on their menus.
If you're able to stay overnight, then why not spoil yourself by booking in at Hotel Du Vin. It's right in the centre of town, a beautiful Georgian building with views overlooking Prospect Place and the Stray. The team, headed up by Steve and James will certainly look after you!
Some people say Harrogate is 'the jewel in the Yorkshire Crown' others say it is 'the gateway to the Yorkshire Dales'. I believe both are true. We're so lucky to be only a hop, skip and a jump away from the stunning Yorkshire Dales. I love the outdoors and have been brought up within a walking family. For an easy family walk head to Burnsall where you can walk up the River Wharfe towards Grassington and back. There's a great pub along the way to stop for refreshments there called the Craven Arms in Appletreewick. For the more adventurous walkers head to Ingleton where you can climb one of the famous Yorkshire Three Peaks – Ingleborough or visit the White Scar Caves for an adventure underground.
We're a bit flower power crazy in Harrogate and district, our roundabouts, gardens and parks are full of them. We even host two Flower Shows (in spring and autumn) at the prestigious Great Yorkshire Show Ground and there are also two other beautiful horticultural venues in Harrogate our very own park called the Valley Gardens and the RHS Garden Harlow Carr – a great open space for children to run around in and it even has its own tree house!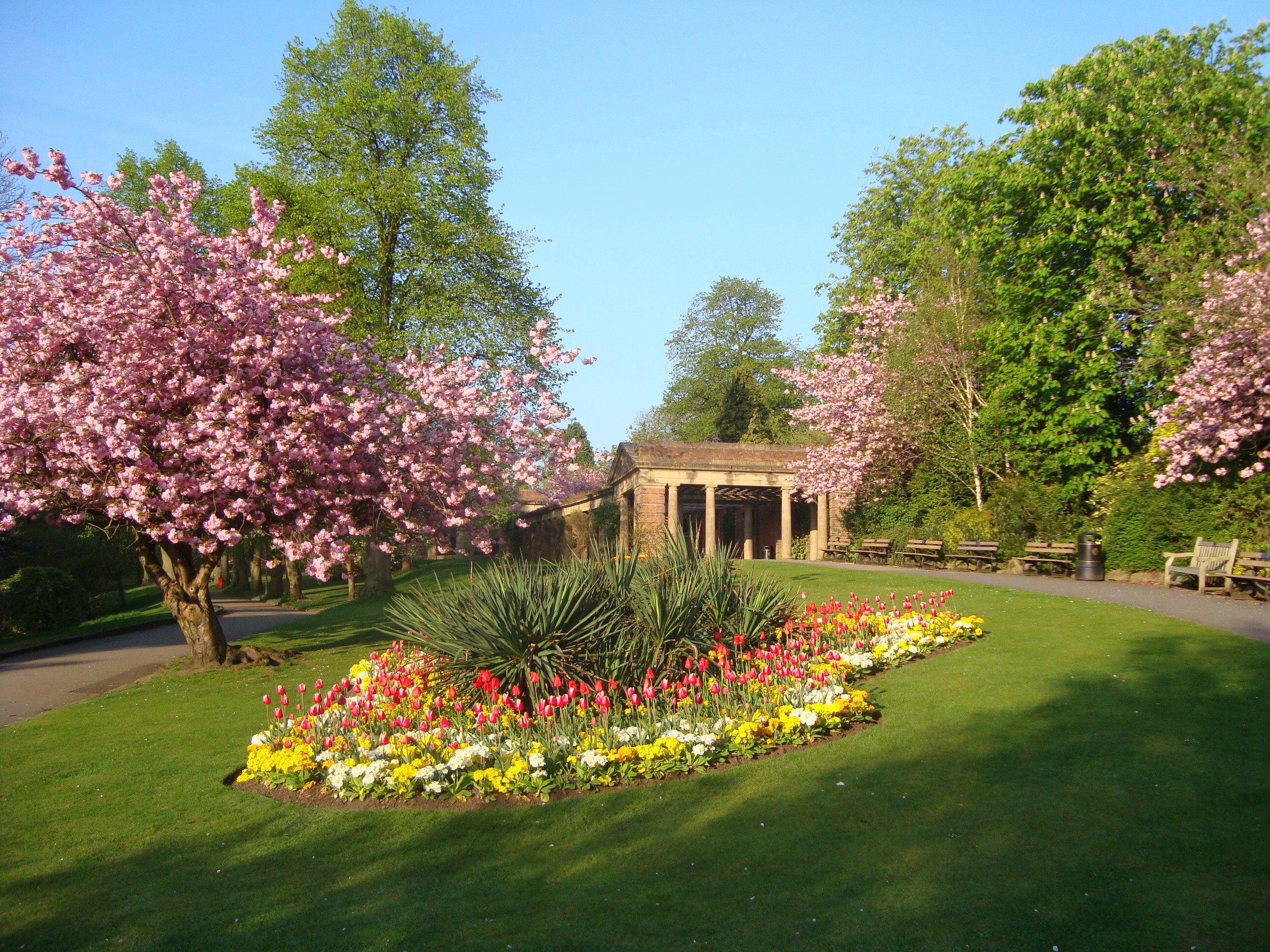 Valley Gardens Sun Colonnade
Tour De France Grand De Part
In 2014 Harrogate hosted the Tour De France Grand De Part. The atmosphere here was electric and something I will treasure for ever. This has paved the way for more large scale events including the Road Bike Championships due in 2019. We also host a big screen on the Stray, food festivals in the Valley Gardens and a Yorkshire Christmas Market.
Tour De France 2014
So whether you're coming for a romantic weekend break, a holiday with your family or just to explore on your own I'm positive you'll have a truly wonderful time. If you want to know more about the happenings in Harrogate hop on to my blog, The Harrogate Girl, for the latest reviews and news."