Britain is rich in ghost stories, some of which go back centuries and relate to places and names that are no longer familiar. Other towns have remained close to their eerie pasts, and Discover Towns has made a selection of places that offer group-friendly ghost trails and walks.
York
In 2002, Ghost Research Foundation International named York the Most Haunted city in Europe – with 504 hauntings being recorded.
Amongst these are ghosts of the Legionnaires, which were first seen in the cellars of a Treasurer's House in the 1950s; the ghost of a Grey Lady haunting the 275-year-old York Theatre Royal and the wife of a former Lord Mayor wandering the Golden Fleece pub. Visitors and residents of York can explore the city's dark past in the Bloody Tour of York. Led by Mad Alice, it is one of the most popular ghost walks in York that runs all-year round.
For the Halloween season, real scares will come from the multi-award winning York Maze Hallowscream (11 October – 2 November) and Adults Only York Dungeon Lates (26 & 31 October). More family-friendly happenings take place at the North Yorkshire Moors Railway Steam & Scream Halloween train (26 – 31 October) and pumpkin carving at York Maze Halloween by Day (11 October – 2 November).
The Great York Ghost Search will be run by the York Dungeon. It gives the perfect early evening introduction to the city's paranormal offering, prepares visitors for a spinetingling stroll or allows the sampling of spirits in haunted pubs and inns!
"Halloween is our favourite time of year!" says Stuart Jarman – General Manager of York Dungeon. "The ghost search is a wonderful way to engage everybody across York and showcase parts of York's darkest history. Being in the most haunted and terrifying city in Europe, it would be amiss not to celebrate this spookiest of seasons"
Pluckley, Kent
Pluckley in Kent was described in the 1989 Guiness Book of World Records as being 'the most haunted' town in Britain. The category no longer exists, but it is said that 12 different ghosts haunt the area.
The most famous reported 'haunting' is the Red Lady, or Lady Mary Dering, at the churchyard of St Nicholas (pictured). She is said to be searching for her child's grave, and to be buried with a red rose in her coffin.
Pluckley's reputation as a 'haunted' town has resulted in many television programmes being filmed there (such as 'Most Haunted'), and it still attracts amateur ghost hunters.
Guided ghost walk tours are available, and they take groups around the 'haunted spots' of picturesque Pluckley. The town's rich history should even make this appealing to those who don't believe in ghosts!
Llandaff, Cardiff
Llandaff has been described as 'a city within a city'. Although close to Cardiff city centre, much of Llandaff is a conservation area – and its Cathedral (pictured) stands on one of the oldest Christian sites in Britain.
There was once a road behind the Cathedral called 'Road of the Dead' – it is said that dead bodies were carried along here to the River Taf, to be buried in the (now abandoned) graveyard. 'Sightings' of ghostly children, monks and priests have been reported in the area.
The Llandaff Ghost Walk shows groups the area that surrounds the cathedral, with stories drawn from Llandaff's exciting history.
Burnley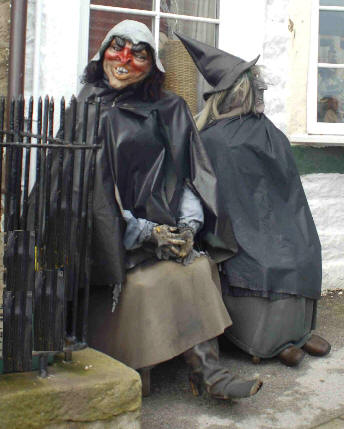 Burnley is a market town surrounded by Pennine countryside. As a former mill town its role in the Industrial Revolution can be explored in the Weavers' Triangle and Queen Street Mill Textile Museum.
But more eerie heritage manifests in Towneley Hall – a historic house. In the early sixteenth century, Sir John Towneley enclosed a portion of land on Burnley Moors – taking away common land from the peasantry. Legend has it that Burnley's peasants revenged themselves by 'cursing' Towneley's soul. The Hall is now said to be haunted by his 'boggart'.
Burnley is near to Pendle Hill – closely associated with the trials of the Pendle witches. In 1612, twelve accused were charged with the murder of ten people via witchcraft. Ten were sentenced to death and were executed at Lancaster Castle.
Visitors can take advantage of the beautiful countryside, whilst exploring the fascinating history. The Pendle Witch Discoverie Tour takes groups around the area, tells the story of the Pendle Witches and highlights manor houses, abbeys and 'witches'' graves along the way.
Whitby
Home to the ruins of Whitby Abbey (where the earliest recognised English poet lived), this seaside town is also closely associated with Bram Stoker's classic 1897 novel Dracula. Stoker researched and developed his ideas whilst staying in Whitby, and the town (including the Abbey) features in the novel. The Dracula Experience gives a unique journey through Dracula's Whitby, using animated scenes, special effects and live actors.
Walking tours are also available, in exploration of the ancient town's myths and legends. The Whitby Ghost walk begins at the top of the Abbey, and takes groups through sites such as Grape Lane. It is said that, centuries ago, a young girl went into the bakery and mysteriously caught fire. Unable to be rescued, her ghost has been reported as appearing in Grape Lane.