On Saturday 16 January 2016, we will be at the GO Travel Show at the Copper Box Arena, Queen Elizabeth Olympic Park in London.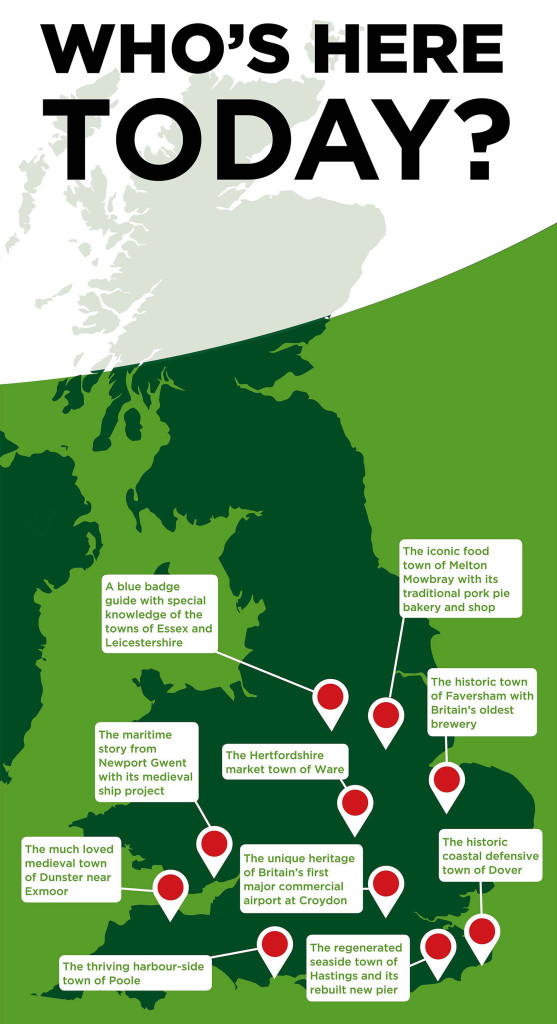 On our stand we will be presenting profiles of places, bits and pieces of interesting information, personal choices, comments including:
• The historic town of Faversham with Britain's oldest brewery
• The iconic food town of Melton Mowbray with its traditional pork pie bakery |and shop
• The regenerated seaside town of Hastings and its rebuilt new pier
• The much loved medieval town of Dunster near Exmoor
• The historic coastal defensive town of Dover
• The maritime story from Newport Gwent with its medieval ship project
• The unique heritage of Britain's first major commercial airport at Croydon
• A blue badge guide with special knowledge of the towns of Essex and Leicestershire
You will also find representatives from the Historic Towns and Villages Forum, The Community Websites project, The Prefab Conservation and Museum project, and the Revive and Thrive organisation that supports local regeneration and promotional initiatives.
There will also be some informal talks, which will be held in the Speakers Corner.
11:30am   Roger King from the Aylesbury Society
12:00pm   Colin Crosby, Blue Badge Guide
1:00pm      Phil Cox and Charles Ferris from the medieval Newport Ship
2:00pm      Alan Moss from the Rochester Society
2:30pm      Patrick and Patricia Hooper Sherratt from the Dover Society
3:00pm      Elisabeth Blanchet from the Prefab Museum
Do come and see us and learn from our exhibitors and also contribute your own suggestions, comments and contacts to keep our towns network and website growing!
For more information, visit the GO Travel Show website.